2020 GAP National Adoption Day – Postponed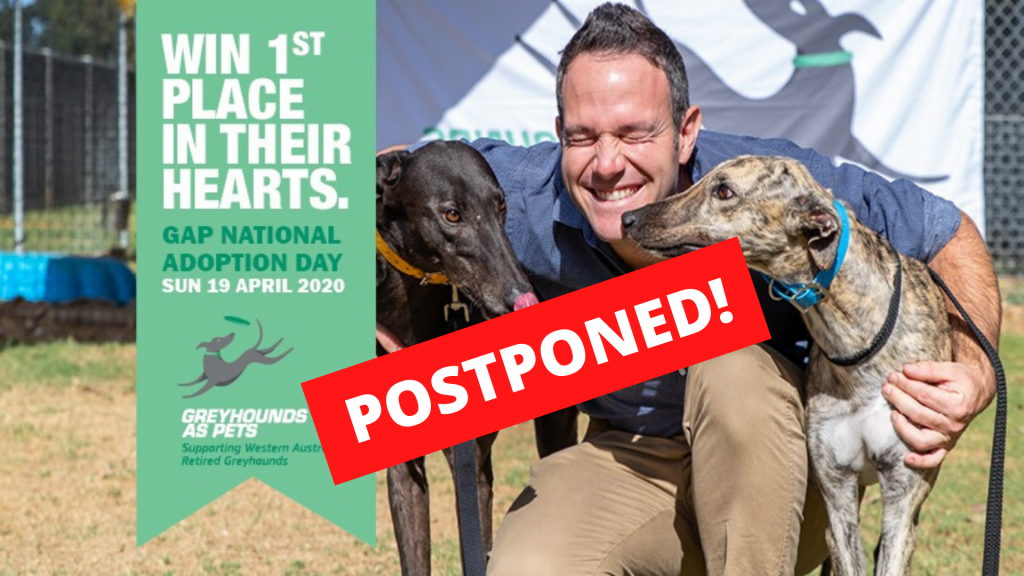 As a consequence of the evolving situation with COVID-19, a decision has unfortunately been made nationally to postpone the 2020 GAP National Adoption Day, scheduled for Sunday 19 April, until further notice.
However, GAP WA is pleased to announce that it will be continuing to offer the $75 adoption fee for the month of April! Those who have already registered for the event, one of our GAP team members will be in touch with you to hopefully be able to match you with a suitable hound as soon as we can.
To complete an application form to find your new furever friend, please click here.
At our Greyhounds as Pets kennels we have imposed several biosecurity and social distancing measures to reduce the potential risk of exposure to our staff and the community, including the following precautionary measures for any meet and greets at our GAP facility:
Prior to attending our facility you must confirm that you:

have not returned from overseas travel in the last 14 days;
are not a contact of a confirmed COVID-19 case; or
do not believe you have may have been in close contact with a person infected with COVID-19.

If you are feeling unwell or are displaying flu-like symptoms we will be unable to accommodate you at our facility until such time as you have completely recovered.
We will be observing 'social distancing' within our meet and greets and request that only one or two people come to visit the suggested greyhound.
We have implemented increased hygiene measures and request that you abide by the instructions given by staff prior to entry to the facility and as per signage displayed around the GAP kennels.
The health and safety of the community remains of paramount concern and GAP WA will continue to closely monitor and follow the advice of health authorities to ensure that appropriate measures are in place.